Your Stories: Finding Alice
The following post was written by Ian Stone from Perth, Western Australia. A Geni user since 2010, Ian discovered his passion for genealogy after starting his family tree on the site nearly a decade ago. After sharing his submission for Geni's Family History Month Giveaway, Ian asked for the opportunity to expand on his answer to the question, "If you could go back in time, which ancestor would you visit and why?" Ian had said that he would love to visit his second great aunt Alice Pyett and her husband, Horace, to learn more about their adventures and find out if they did have a son named James. In this post, Ian shares more about his second great aunt Alice and her husband, Matthew Horace Hayes, and some of the challenges he has experienced researching them.
The life of my second great aunt Alice Maria Pyett and her lover, husband and business partner Matthew Horace Hayes was one great adventure for almost 25 years.
Alice Maria Pyett and Matthew Horace Hayes / Images courtesy of Ian Stone
Born in Ireland, Horace's first career was as an officer in the British army in India. After meeting Alice, he created a second career as an author and expert on horses. Together they travelled to countries as diverse as India, Ceylon, Egypt, China, South Africa, Germany and Russia, where Horace explained his methods of horse training and gathered material for his books. Alice was an integral part of the show, demonstrating her ability to ride and tame even the most difficult horse. And she only ever rode sidesaddle!
I have always been interested in my family's history, but I really became interested in 2010 when I was introduced to Geni. I inherited bibles from both my great grandfather Joseph Pyett and my grandmother. In the front of his bible, Joseph had recorded his birth in Esher, England; his parent's names; his arrival in Sydney, Australia; his marriage in Perth and the birth of their children, including my grandmother. Similarly my grandmother had recorded her marriage, the birth of her children, including my mother, and all the grandchildren. So in a flash I was building my tree on Geni and with the English census and birth, marriage and death records, I soon had all of great grandfather Joseph's siblings born, married and dead.
Joseph Pyett's Geni profile
All except Alice.
Born in 1861, nine year old Alice appears in the 1871 census and then disappears. I couldn't find her married or dead. So there she stayed, as I moved on to recording other branches of the family tree.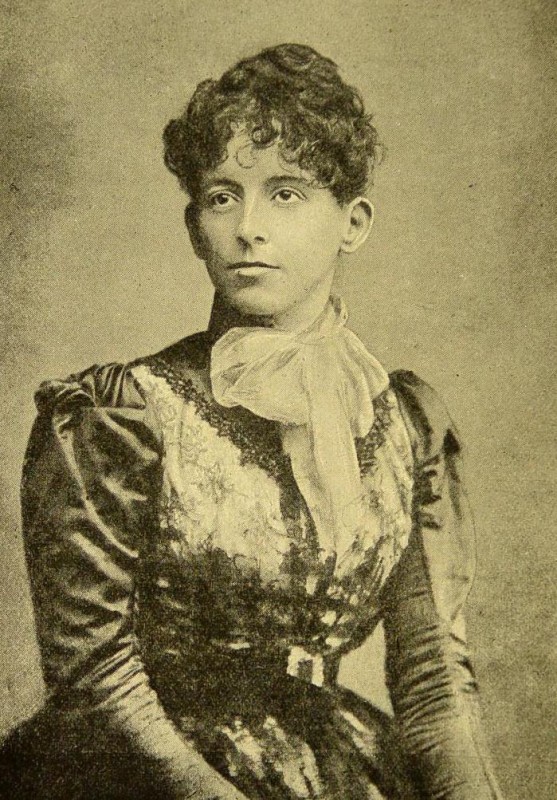 Alice Pyett / Image courtesy of Ian Stone
For my birthday in 2016 I decided to treat myself to a DNA test. When the results came back, it simply confirmed what I had long suspected – all my ancestors came from England, Ireland and Scotland. Then I got an email from one of the 'possible second cousin' matches, "Hi, I'm Annie, how are we related?" Annie provided enough information for me to discover she had been born on the English Channel island of Jersey. Jersey rang a bell. Yes great grandfather Joseph Pyett's sister Rosa had married and gone to Jersey to live. Yes Rosa was Annie's grandmother and we started emailing, and sharing family history.
Then in one email Annie asked "Do you know about Alice?"
Alice was still there in the tree, 9 years old.
"No tell me about Alice."
"Alice Pyett got away at 19 by marrying a much older man, Captain Horace Hayes of The Buffs. He is a very famous vet and wrote countless books on the subject. The Points of the Horse is still the definitive book on equine anatomy even today. It appears that Alice travelled with the regiment to India and visited China and the Arab countries. She wrote a book, The Horsewoman by Mrs. Hayes, in which she describes a divided riding skirt she has designed because ladies still rode sidesaddle. There's a photo of her riding a mountain zebra sidesaddle! She relates how she rode in the desert every day breaking in horses for Arab sheiks. In the UK she is a hero in the eyes of the Sidesaddle Riding Association." replied Annie.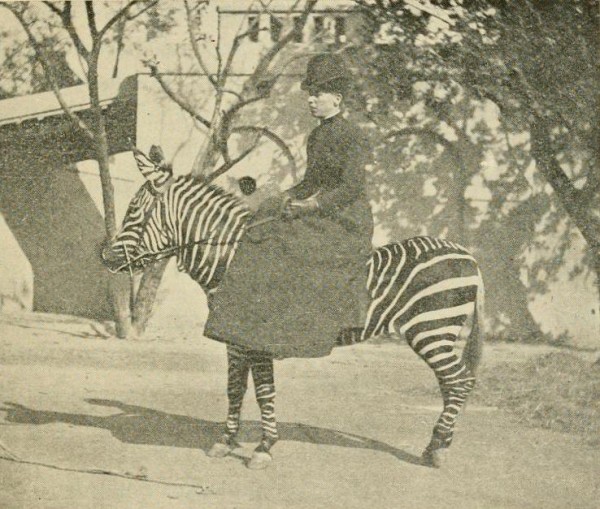 The Horsewoman, 1903 / Archive.org
There in the 1881 census was Alice M. Hayes, 19 (born about 1862), born Esher, Surrey, England, living with her husband Horace Hayes, 36 (born about 1845), born Tipperary, Ireland, sporting writer, living at 168 Marylebone road, London. So sometime between early 1880, when Horace returned to England from India and before the census night, 3 April 1881, 18-19 year old Alice met, possibly at the nearby Sandown Park racecourse at Esher in Surrey, the dashing, charismatic, but older (38-39 year old) Irishman, Matthew Horace Hayes, and moved in with him.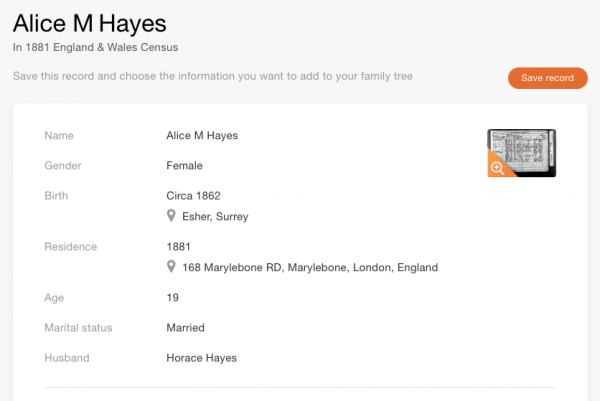 1881 England & Wales Census / MyHeritage SuperSearch
And that was the start of a fabulous six months of discovering the life of Alice and Horace.
So I started by re-searching for a marriage record and discovered that in 1881 Horace was already married, having married in 1866 in India and his wife did not apply for a divorce until 1886. And of course in 1881 Horace was 39, not 36, and an occupation of 'sporting writer' in the census was just scratching the surface. When he arrived back in England in early 1880, he was also involved in a horse buying and selling business; wrote and published his third book Riding on the flat and across country; is advertising for students to board at his home in Edinburgh, Scotland, where he had set up a military preparation college; completes his veterinary qualifications in Edinburgh; and in early 1882 is granted a design registration for a folding horseman's knife, similar to the later Swiss Army Knife.
In exploring the lives of Alice and Horace, it became apparent that they were flexible with important things, like their age. In shipping passenger lists their ages are always closer together, with Horace younger and Alice older.  In the 1901 census Alice is recorded as aged 36 instead of 39. In the 1911 census it's recorded as 42, instead of 49. When she remarries in 1906, after Horace died in 1904, her age in the certificate is 35 when she was almost 45, while her new husband was recorded as aged 26, when I believe he was actually 23.
Alice died in early 1913, aged 51, and as the death was registered by her second husband, I can only assumed he didn't know her real age, as she is recorded as aged 42, though 40 had been originally entered and crossed out.

Alice's death certificate (click to view in full)
I have recorded what I have discovered in Alice and Horace's profiles on Geni.
As they were both storytellers, books and contemporary newspapers were the best sources for discovering their story. Through the Internet Archive (archive.org) I was able to read Alice and Horace's books, some containing a great deal of autobiographical information. Through the British Newspaper Archive, a joint venture between the British Library and their commercial partner, I was able to read and see articles and advertisements about Alice and Horace and their books.
Finally did Alice and Horace have a son James?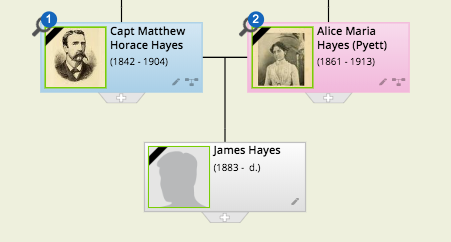 The evidence for a son is in references to him in Alice's books and the 1901 English census. In her book My leper friends, she records sending her son from Calcutta to the cooler climate of Darjeeling where he attended the school run by the Nuns of the Loretto Convent and him giving his toys to the children in the leper asylum. In the acknowledgements in her book The Horsewoman, she thanks her husband and son for the photographs in the book. And finally in the 1901 census there is recorded James Hayes, 18 (born about 1883), born Edinburgh, Midlothian, Scotland, living with his mother Alice.
And that's where the evidence ends. I can't find a birth registration or identify a marriage or death registration; a son is not mentioned in father Horace's 1897 will, everything being left to Alice; and Alice's 1911 will also make no mention of him, so when she died in 1913 everything is left to her second husband.  And finally in the introduction to the 18th edition (published 2002) of Veterinary notes for horse owners by Captain M. Horace Hayes, a biography of Horace and Alice, prepared by Roy Knightbridge, records they had no children. Roy was the stepson of Frank Pyett, Alice's nephew, (son of her brother John Pyett). Roy records he first became involved with the literary estate of Horace Hayes in 1975, when his step-father Frank, by then sole trustee, asked him to help find a new literary agent. Frank then asked Roy if he would take on the role, which he did. When Frank died in 1982, Roy and his sister became joint trustees of the literary estate. It is not known how Frank became the Literary Trustee of Horace's estate, as in Horace's will he bequeathed everything to wife Alice, and in Alice's will she bequeathed everything to second husband Enrique Rucker.
Still a mystery.
Many thanks to Ian for his guest blog post submission! If you have a story you would like to share about your family history, email us at community@geni.com .
Share: