Please feel free to add the profile of anyone living with or who lived with Hashimoto's Disease (also called Hashimoto's thyroiditis, chronic lymphocytic thyroiditis, or autoimmune thyroiditis.)
---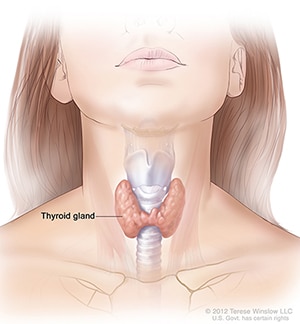 What is Hashimoto's Disease?
Hashimoto's disease is an autoimmune disorder in which your immune system creates antibodies that damage your thyroid gland.
Causes
Doctors don't know what causes your immune system to attack your thyroid gland. Some scientists think a virus or bacterium might trigger the response, while others believe a genetic flaw may be involved.
A combination of factors — including heredity, sex and age — may determine your likelihood of developing the disorder.
Risk factors
Gender. Women are 8 times more likely to get Hashimoto's disease than men.
Age. Hashimoto's disease can occur at any age but more commonly occurs between ages 40 and 60.
Heredity. You're at higher risk for Hashimoto's disease if others in your family have thyroid or other autoimmune diseases.
Radiation exposure. People exposed to excessive levels of environmental radiation are more prone to Hashimoto's disease.
Other autoimmune disease. Having another autoimmune disease — such as:
Addison's disease, a hormonal disorder that occurs when the adrenal glands do not produce enough of certain hormones.
Autoimmune hepatitis, a disease in which the immune system attacks the liver
Celiac disease, a digestive disorder
Lupus, a chronic, autoimmune disease that can damage any part of the body (skin, joints, and/or organs inside the body)
Pernicious anemia , a condition caused by a vitamin B12 deficiency
Rheumatoid arthritis , a disorder that affects the joints and sometimes other body systems
Sjögren's syndrome , a disease that attacks the glands that make tears, saliva, and causes dryness in other places that need moisture, such as your nose, throat, and skin.
Type 1 Diabetes, a disease that occurs when your blood glucose, also called blood sugar, is too high
Vitiligo , is a disorder that causes patches of skin to become white. This happens because cells that make color in your skin are destroyed.
Hashimoto's Disease Symptoms
You might not notice signs or symptoms of Hashimoto's disease at first, or you may notice a swelling at the front of your throat (goiter). Hashimoto's disease typically progresses slowly over years and causes chronic thyroid damage, leading to a drop in thyroid hormone levels in your blood. The signs and symptoms are mainly those of an underactive thyroid gland (hypothyroidism) and include:
Fatigue and sluggishness
Increased sensitivity to cold
Constipation
Pale, dry skin
A puffy face
Brittle nails
Hair loss
Enlargement of the tongue
Unexplained weight gain
Muscle aches, tenderness and stiffness
Joint pain and stiffness
Muscle weakness
Excessive or prolonged menstrual bleeding (menorrhagia)
Depression
Memory lapses
When to see a doctor
See your doctor if you develop these signs and symptoms:
Tiredness for no apparent reason
Dry skin
Pale, puffy face
Constipation
You'll also need to see your doctor for periodic testing of your thyroid function if:
You've had thyroid surgery
You've had treatment with radioactive iodine or anti-thyroid medications
You've had radiation therapy to your head, neck or upper chest
If you have high blood cholesterol, talk to your doctor about whether hypothyroidism may be a cause.
If you're receiving hormone therapy for hypothyroidism caused by Hashimoto's disease, schedule follow-up visits as often as your doctor recommends. It's important to make sure you're receiving the correct dose of medicine. Over time, the dose you need to adequately replace your thyroid function may change.
Complications
Left untreated, an underactive thyroid gland (hypothyroidism) caused by Hashimoto's disease can lead to a number of health problems, including:
Goiter. Constant stimulation of your thyroid to release more hormones may cause the gland to become enlarged, a condition known as goiter. Hypothyroidism is one of the most common causes of goiters. Although generally not uncomfortable, a large goiter can affect your appearance and may interfere with swallowing or breathing.
Heart problems. Hashimoto's disease also may be associated with an increased risk of heart disease, primarily because high levels of low-density lipoprotein (LDL) cholesterol — the "bad" cholesterol — can occur in people with an underactive thyroid gland (hypothyroidism). If left untreated, hypothyroidism can lead to an enlarged heart and, possibly, heart failure.
Mental health issues. Depression may occur early in Hashimoto's disease and may become more severe over time. Hashimoto's disease can also cause sexual desire (libido) to decrease in both men and women and can lead to slowed mental functioning.
Myxedema (miks-uh-DEE-muh). This rare, life-threatening condition can develop due to long-term hypothyroidism as a result of untreated Hashimoto's disease.

A myxedema coma may be triggered by exposure to cold, sedatives, infection or other stress on your body. Myxedema requires immediate emergency medical treatment.

Birth defects. Babies born to women with untreated hypothyroidism due to Hashimoto's disease may have a higher risk of birth defects than do babies born to healthy mothers. Doctors have long known that these children are more prone to intellectual and developmental problems. There may be a link between hypothyroid pregnancies and birth defects, such as a cleft palate.

A connection also exists between hypothyroid pregnancies and heart, brain and kidney problems in infants. If you're planning to get pregnant or if you're in early pregnancy, be sure to have your thyroid level checked.
Diagnosis
Diagnosis is usually made by detecting elevated levels of anti-thyroid peroxidase antibodies (TPOAb) in the serum, but seronegative (without circulating autoantibodies) thyroiditis is also possible.
Given the relatively non-specific symptoms of initial hypothyroidism, Hashimoto's thyroiditis is often misdiagnosed as depression, cyclothymia, PMS, chronic fatigue syndrome, fibromyalgia and, less frequently, as erectile dysfunction or an anxiety disorder.
On gross examination, there is often presentation of a hard goiter that is not painful to the touch; other symptoms seen with hypothyroidism, such as periorbital myxedema, depend on the current state of progression of the response, especially given the usually gradual development of clinically relevant hypothyroidism.
Testing for thyroid-stimulating hormone (TSH), free T3, free T4, and the anti-thyroglobulin antibodies (anti-Tg), anti-thyroid peroxidase antibodies (anti-TPO, or TPOAb) and anti-microsomal antibodies can help obtain an accurate diagnosis. Earlier assessment of the person may present with elevated levels of thyroglobulin owing to transient thyrotoxicosis, as inflammation within the thyroid causes damage to the integrity of thyroid follicle storage of thyroglobulin; TSH secretion from the anterior pituitary increases in response to a decrease in negative feedback inhibition secondary to decreased serum thyroid hormones. Typically T4 is the preferred thyroid hormone test for hypothyroidism. This exposure of the body to substantial amounts of previously isolated thyroid enzymes is thought to contribute to the exacerbation of tolerance breakdown, giving rise to the more pronounced symptoms seen later in the disease. Lymphocytic infiltration of the thyrocyte-associated tissues often leads to the histologically significant finding of germinal center development within the thyroid gland.
*Hashimoto's when presenting as mania is known as Prasad's syndrome after Ashok Prasad, the psychiatrist who first described it.
Mortality
Several Danish national registries provided information on 563,700 residents of Copenhagen at least 18 years old (mean age 48.6 years; 61% women) who had thyroid function tests run between 2000 and 2009. Patients taking thyroid hormones or antithyroid drugs or had had a heart attack, stroke, heart failure, or cancer were excluded. Overt hyperthyroidism was defined as a low TSH with elevated free thyroxine (total 3902 individuals [0.6%]); subclinical hyperthyroidism as a low TSH with normal free thyroxine (5972 individuals [1.06%]); euthyroidism as a normal TSH (540,710 individuals [95.9%]); subclinical hypothyroidism as a high TSH with normal free thyroxine (11,560 individuals [2%]); and overt hypothyroidism as an elevated TSH with a low free thyroxine level (1549 individuals [0.3%]). The major outcomes were death from any cause and major adverse cardiovascular events (MACE), which included cardiovascular death, nonfatal heart attack and nonfatal stroke. Other outcomes were heart attack, stroke, heart failure, and cancer as individual problems. Comparisons were made between individuals with abnormal thyroid function tests and those with normal thyroid function tests and the data was adjusted for confounding variables such as age, sex, calendar year and several other variables.
During the study, 47,327 patients died. Both overt and subclinical hyperthyroidism was associated with an increased risk of all-cause mortality, MACE and heart failure. Isolated heart attack and stroke risk were not increased in comparison to those individuals with normal thyroid function. Patients with subclinical hypothyroidism had lower all-cause mortality than those with normal thyroid function and the risk for MACE did not differ for those with overt or subclinical hypothyroidism as compared with those with normal thyroid function.
When examined by sex and age, the reduced risk for all-cause mortality was present only in women with subclinical hypothyroidism and in subjects over age 65. Heart attack risk was increased in those with subclinical hypothyroidism,and cancer rates were lower in those with either subclinical or overt hypothyroidism.
History
Also known as Hashimoto's disease, Hashimoto's thyroiditis is named after the Japanese physician Hakaru Hashimoto (1881−1934) of the medical school at Kyushu University, who first described the symptoms of persons with struma lymphomatosa, an intense infiltration of lymphocytes within the thyroid, in 1912 in a German publication.[29] The report gave new insight into a condition (hypothyroidism) more commonly seen in areas of iodine deficiency that was occurring in the developed world, and without evident causation by dietary deficiency. In 1957 it was recognized as an autoimmune disorder and was the first organ-specific one identified.
Notables who have Hashimoto's
Gina Rodriguez - star of the television series Jane the Virgin and the movie Annihilation
Oprah Winfrey- an American media proprietor, talk show host, actress, producer, and philanthropist. She is best known for her talk show The Oprah Winfrey Show, which was the highest-rated television program of its kind in history and was nationally syndicated from 1986 to 2011
Kelly Osbourne - is a British singer-songwriter, actress, television presenter and fashion designer. The daughter of Ozzy and Sharon Osbourne
Kim Cattrall - is an English-Canadian actress. She is known for her role as Samantha Jones in the HBO romantic comedy series Sex and the City.
Jillian Michaels - (born February 18, 1974)is an American personal trainer, businesswoman, author and television personality from Los Angeles, California. Michaels is best known for her appearances on NBC's The Biggest Loser and Losing It with Jillian
Mary-Louise Parker - Mary-Louise Parker is an American actress and writer. After making her stage debut as Rita in a Broadway production of Craig Lucas's Prelude to a Kiss in 1990, Parker came to prominence for film roles in Grand Canyon, Fried Green Tomatoes, The Client, Bullets over Broadway, Boys on the Side, The Portrait of a Lady, and The Maker.
Zoe Saldana - Zoe Saldana-Perego, known professionally as Zoe Saldana or Zoë Saldana, is an American actress and dancer. Following her performances with the theater group Faces, Saldana made her screen debut in an episode of Law & Order.
Gigi Hadid - Jelena Noura "Gigi" Hadid is an American fashion model. She was signed to IMG Models in 2013. In November 2014, Hadid made her debut in the Top 50 Models ranking at Models.com. In 2016, she was named International Model of the Year by the British Fashion Council
Brooke Burke-Charvet - Brooke Burke-Charvet, better known by her maiden name, Brooke Burke, is an American actress, dancer, model, and television personality. She is known as a Playboy model, hosting Wild On!, Rock Star, winning the seventh season of Dancing with the Stars, and for co-hosting Dancing With the Stars from 2010 to 2013.
Victoria Justice - Victoria Dawn Justice is an American actress and singer. In 2003, she began an acting career, appearing in films, television shows and commercials. She rose to fame on Nickelodeon, starring as Lola Martinez in the television series, Zoey 101, and Tori Vega in the sitcom, Victorious.
- Molly Sims - Molly Sims is an American model and actress. She has appeared in the Sports Illustrated Swimsuit Issue and played Delinda Deline in the NBC drama Las Vegas.
References & Additional Reading: