10 Things You May Not Know About Mark Twain
Have you read the works of author Mark Twain? Lauded as the "greatest American humorist of his age," Twain's works have continued to live on long after his death. His novels, The Adventures of Tom Sawyer and its sequel, Adventures of Huckleberry Finn, are still considered to be some of the greatest works of American literature.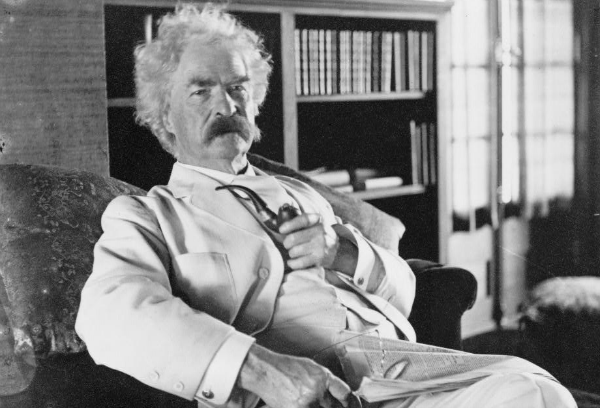 Mark Twain / Library of Congress
In honor of Twain's birthday, here are some interesting facts about the great American author:
1. His real name is Samuel Langhorne Clemens.
Birth place of Mark Twain in Florida, Missouri / Library of Congress
Twain was born Samuel Langhorne Clemens on November 30, 1835 in Florida, Missouri. Early in his writing career, he adopted the pen name Mark Twain. The name was derived from the phrase "mark twain," the leadsman's cry for a measured river depth of two fathoms, which was safe water for a steamboat.
2. He dropped out of school in the fifth grade.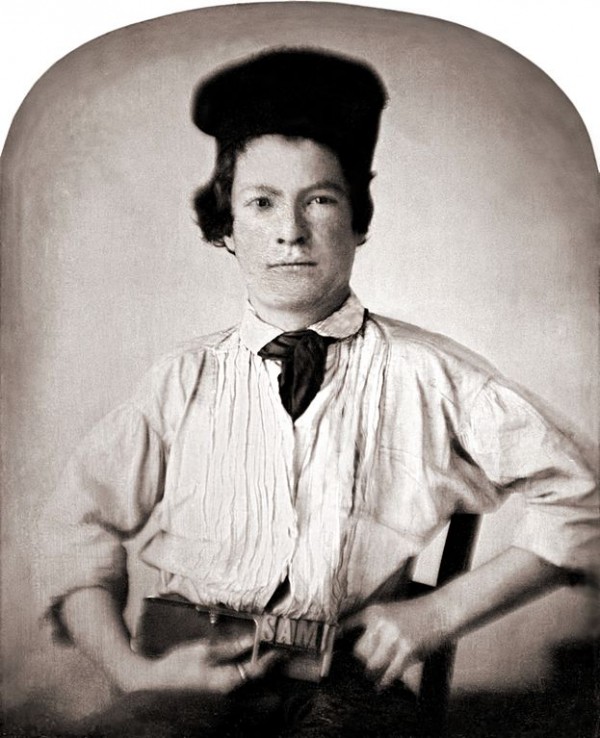 Twain at age 15 holding a printer's composing stick with letters SAM / Wikimedia Commons
Leaving his formal education behind, Twain found a job as a printer's apprentice. He worked as a typesetter and soon began writing articles and humorous sketches for the Hannibal Journal. At 18, he left Hannibal and made his way to Philadelphia, New York City, St. Louis, and Cincinnati working as a printer. Along the way, he educated himself at public libraries.
3. He became a steamboat pilot.
Steamboat / Wikimedia Commons
A steamboat pilot was a prestigious position with a great salary. He studied the Mississippi River between New Orleans and St. Louis for two years before receiving his pilot license. However, the outbreak of the American Civil War in 1861 brought a halt to all civilian traffic along the river and ended Twain's career as a steamboat pilot.
4. The death of his younger brother, Henry, sparked an interest in parapsychology.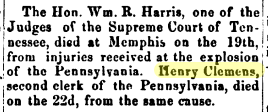 Centerville Indiana True Republican, 1858 / MyHeritage SuperSearch
In 1858, his brother was killed when the steamboat he was working on, the Pennsylvania, exploded. Twain claimed to have foreseen his brother's death in a dream a month earlier. This incident sparked his interest in parapsychology and he even became an early member of the Society for Psychical Research.
5. During the Civil War, Twain briefly joined a Confederate militia.
Twain, 1867 / Library of Congress
Twain joined a volunteer Confederate unit called the Marion Rangers, but quit after just two weeks. Despite his brief association with the Confederacy, Twain was later an adamant supporter of the abolition of slavery.
6. He tried his luck out West.
After his career as a riverboat pilot ended, he traveled via stagecoach to Nevada to join his brother, Orion, who had been appointed Secretary of the Nevada territory. He hoped to strike it rich during Nevada's silver rush by working as a miner, but his efforts were unsuccessful.
7. He was friends with Nikola Tesla.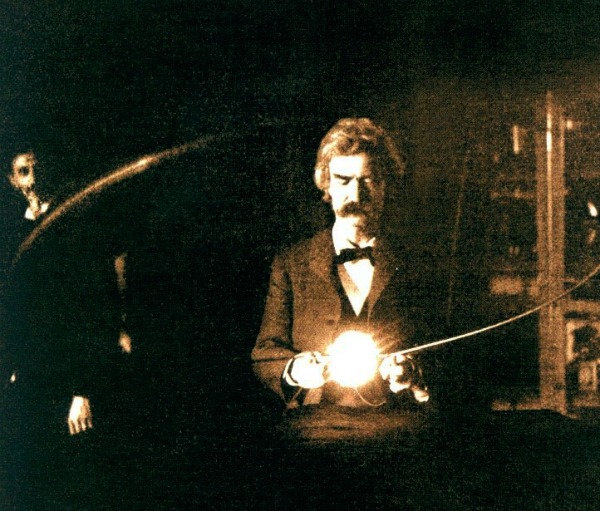 Twain in Tesla's lab / Wikimedia Commons
Twain had a lifelong fascination with science and technology. After meeting Tesla in 1890, the two shared a long lasting friendship. Twain spent a lot of time in Tesla's laboratory.
8. Twain and his wife, Olivia Langdon, were married for 34 years.
The couple met in 1867 through her brother, Charles, and corresponded with each other through letters. Although she rejected his first marriage proposal, the couple eventually married in 1870. They had four children together, a son and three daughters. Their only son, Langdon, died a year and a half after his birth. Twain and his wife were married for 34 years until her death in 1904.
9. He received an honorary doctorate.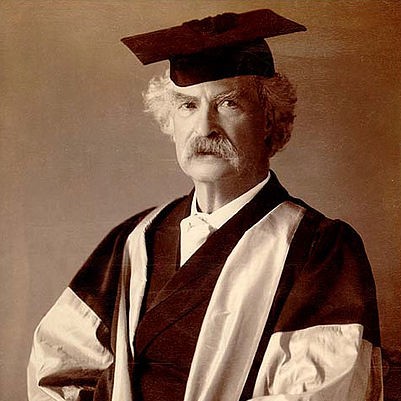 Twain awarded Doctor of Letters by Oxford University / Wikimedia Commons
In 1907, Oxford University award Twain an honorary doctorate in letters (D.Litt.).
10. A 1909 film taken by Thomas Edison is the only known footage of Mark Twain.
Thomas Edison was good friends with Twain. In 1909, he visited Twain's Stormfield estate in Redding, Connecticut and filmed the famous author with his family. It first appeared in a 1909 production of Twain's "The Prince and the Pauper." Edison's silent film is the only known footage of Twain. He would die one year later at the age of 74.
Share: