Geni Adds DNA to the World Family Tree
We're excited to announce big news – Geni and Family Tree DNA, a global leader in genetic genealogy, have partnered to integrate Family Tree DNA test results into Geni's World Family Tree. Today we are releasing a project that has been one and a half years in the making!
As of today, Geni supports three major DNA technologies to enhance the World Family Tree – Y-DNA, mitochondrial DNA and autosomal DNA. Users can now link their Family Tree DNA account to Geni and have their DNA test results transferred accurately to their Geni profile with a single click.
Now you can confirm your relationship to individuals in your direct paternal line (Y-DNA), direct maternal line (mtDNA) and relatives across all lines via autosomal DNA. You can also discover new relatives via DNA matching. Read more about using DNA to verify relationships in your family tree.
DNA tests are an increasingly popular method that is being used by genealogists to discover their family's origins and find new relatives. By combining the power of genetic testing with Geni's World Family Tree, users will be able to confirm or refute connections with confidence, increasing the accuracy of the tree. Uploading DNA data to the World Family Tree will highlight situations where the documented genealogy doesn't sit well with the biological descendancy. These discrepancies are often caused by mistakes of genealogists, adoptions or infidelities. DNA data will also help separate fact from fiction, as is sometimes the case with people claiming descent from royalty.
The new integration with Family Tree DNA is secure and automatic, making it free of errors that could occur with manual data entry of DNA information. Privacy is strictly enforced and raw DNA data points such as markers and mutations are never shown on Geni. DNA results are displayed on profiles only as haplogroups and matches. Additional privacy settings allow you to control precisely how Geni manages your DNA information on profiles.
In addition, we have used public online information from Ysearch and Mitosearch —public services operated by Family Tree DNA, for uploading and comparing Y-DNA and mtDNA submitted voluntarily by test takers from various services. Geni has loaded this public data, and our fantastic team of curators has merged the data into the World Family Tree. As a result, Geni celebrates its DNA launch with DNA data points on more than 228,000 people, making it the most DNA-rich collaborative family tree in the world, from day one. These are exciting times for Geni.
Let's take a look at DNA test results on Geni.
Profile Page
Profile pages will now show icons indicating which DNA tests have been taken or propagated to the profile, and the resulting haplogroup for Y and mitochondrial tests. You can control who will see this information on your profile using the "DNA Haplogroups" setting on your profile privacy page. Set it to Public to allow all Geni users to see the haplogroups, or Private if you want only your close family members (fourth cousins and closer) to be able to view this. Click 'details' to view the results in more detail on the new DNA tab on your profile.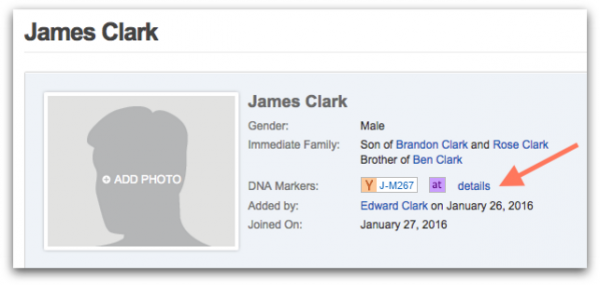 On the profile page, a new tab labeled DNA was added, as shown below.

Clicking on this tab will display information on this profile's DNA test results. Here you can upload your own DNA test results or see a list of relatives who have already uploaded their test results to the tree. On your profile, you also have the option to view a list of living people in your tree who can be tested for Y-DNA, mtDNA and autosomal DNA test that may match yours.
The profile DNA tab displays an overview of the DNA for the person as well as details of each of the three test types: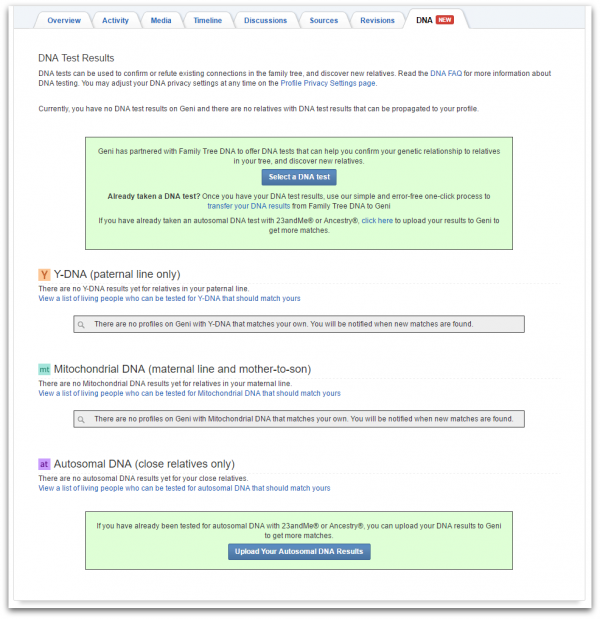 If you have taken a Family Tree DNA test before, you can upload it to your profile in a few clicks. Simply click on the link "transfer your DNA results" to transfer your results from Family Tree DNA to Geni.

You will then be asked to log in to your Family Tree DNA account to connect it to your Geni profile.

Click the checkbox to accept the Terms of Service and Privacy Policy, and then confirm Family Tree DNA's access to your Geni account by clicking 'Authorize':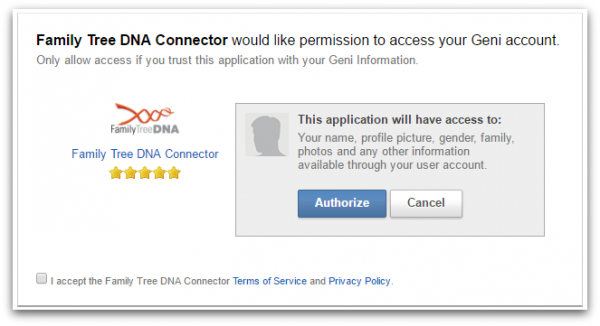 Once you have authorized the application, your Family Tree DNA account will show that it is connected.

After linking your accounts, your DNA test results will be automatically uploaded to your Geni profile and appear on the DNA tab (this is usually completed within a few minutes).
The results will also be propagated to other profiles in your tree, showing you who may be related through your paternal line (Y-DNA), maternal line (mtDNA) or autosomal DNA (close relatives). Greater confidence can be obtained by testing more relatives – click the links to view lists of living relatives who can be tested.
For example, if you have completed a Y-DNA test, your results will be propagated to your father's profile.

Confirm Relationships
You can gain more confidence in the connections in your family tree now that relationships can be confirmed with DNA test results.
In the DNA tab, a green checkmark will appear next to relationships that have been confirmed by DNA.

Relationship paths are even better now that they can be confirmed with DNA. If a relationship has not yet been confirmed, a button will appear suggesting to confirm it with a DNA test.

A relationship path is considered confirmed if both people have matching DNA tests, or two or more propagated DNA results that match:

In the example below, mitochondrial DNA test results were used to confirm the relationship between an aunt and a nephew.

When you click on 'View details,' you are automatically directed to the DNA tab of the profile to show which DNA test results confirm the relationship. The green check marks indicate which results that were matched to the profile have been used to confirm the relationship.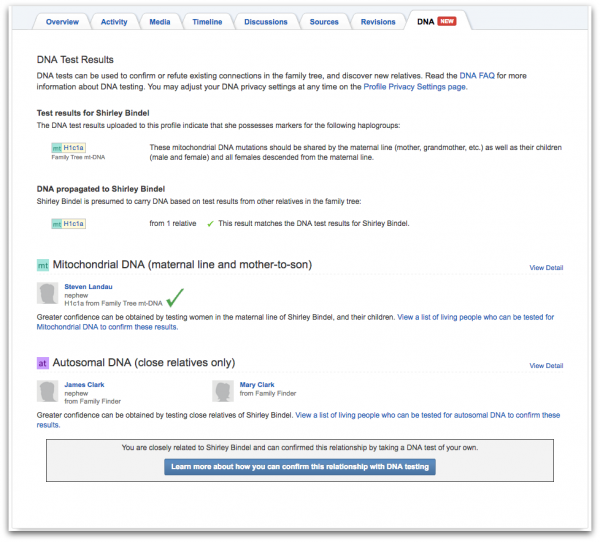 Review Conflicts
A yellow triangle will alert you when there is a conflict with other DNA test results that have been added to the tree so that you may investigate further.

When you click on the link to view the conflict in detail, you will be provided with a tree view of the conflict.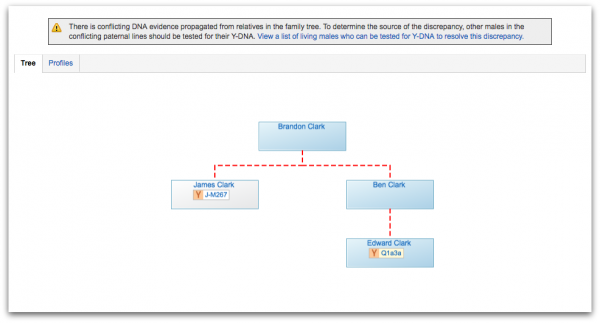 You can also click on the 'Profiles' tab to view the list of conflicting profiles.
To help you pinpoint the discrepancy, click on the link to view a list of additional relatives that can be tested.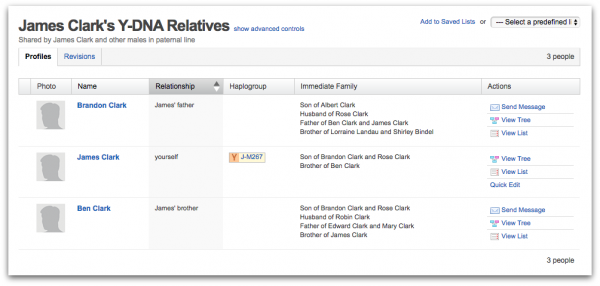 DNA Matches
Users will be transferring new DNA information to Geni every day. As this happens, we will be looking constantly for new DNA matches in your tree. When a new match is found, you will be automatically alerted. You can view your DNA Matches under your notifications at the top right corner of the page.
Clicking on the DNA Matches notification will take you to a page that details your matches, organized by DNA test type.
From here, you can view a list of matching profiles for each test type.
Family Tree View
We've also enhanced the family tree view to show you which relatives have had DNA test results added to their profile. In your family tree, a black DNA icon will now appear for each relative who has been DNA tested.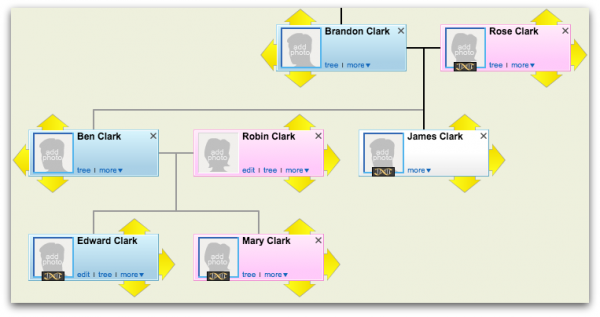 Merging Profiles
DNA tests have also been added to the merge comparison page so you can confirm your Tree Matches with even greater confidence. A green checkmark will indicate matching test results, while a yellow triangle will indicate a conflict.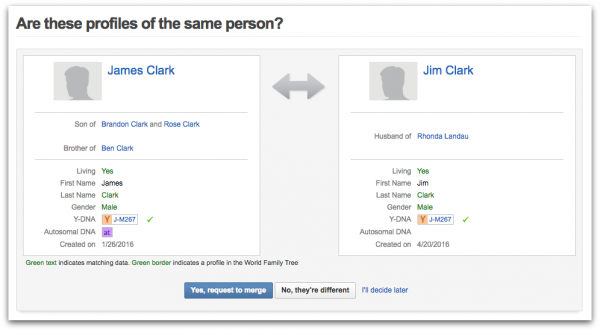 Meet Relatives in Haplogroup Projects
Geni provides a DNA project for each haplogroup, as a meeting place for users who may be related and wish to share their family trees to find overlaps and merge duplicate profiles. Profiles that share the same haplogroup, determined either through testing or propagation, will be automatically added to the project. You can opt out of being included in DNA haplogroup projects in your profile privacy settings by making your DNA Haplogroups private. Users can edit the About section of each project to add more information about the haplogroup.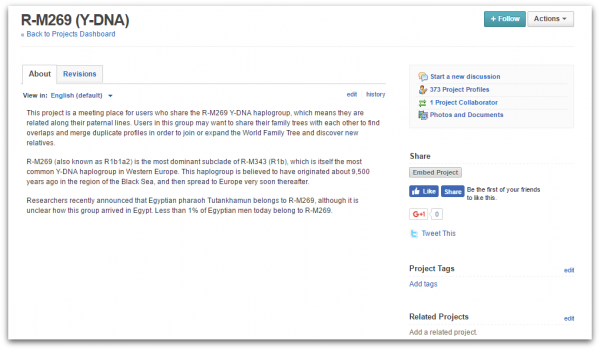 Privacy
You can control what DNA information you would like to be public or private in your profile privacy settings.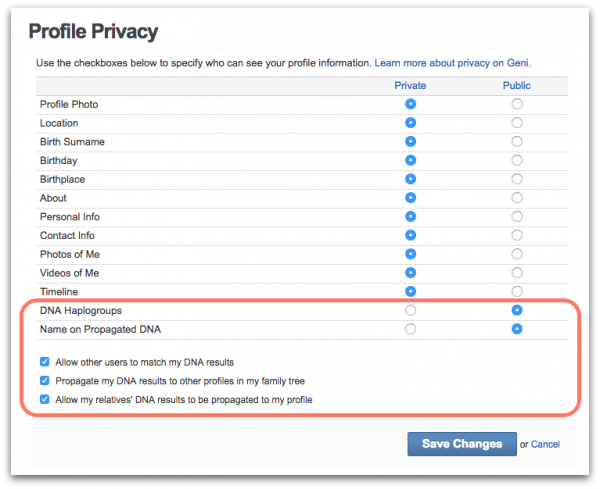 By default,
Your DNA haplogroups are public but can only be seen by other Geni users
Your name and link to your profile is public on propagated DNA
Other users can match to your DNA results
Your DNA results are propagated to other profiles in your family tree
Your relatives are allowed to propagate their results to your profile
You may update your privacy settings at any time.
Next Steps
Haven't done a DNA test yet? Today is the perfect time to get started with DNA testing for genealogy now that you can add your DNA test results to your family tree on Geni. Check out our DNA tests page to find which DNA test is best for you. Purchase our discounted DNA tests powered by Family Tree DNA now!
Already tested with Family Tree DNA? Upload your results to your Geni profile now! You can easily transfer your results with a simple, one-click process. Just click on the link on your profile's DNA tab to transfer your DNA results from Family Tree DNA to Geni, and follow the steps outlined above. Or you can login to your Family Tree DNA account and connect with Geni through their partner applications page. Upload your Family Tree DNA test results now.
Tested with a different provider? If you have already been tested for autosomal DNA by a different provider, such as AncestryDNA™  or 23andMe® , you may export your raw DNA data from their services and then upload it to Geni for future matches. In your DNA tab, click on the "Upload Your Autosomal DNA Results" button.
Follow the instructions for the provider you have tested with to upload your raw DNA data to Geni.
Upload your autosomal DNA results now!
Have your relatives tested with Family Tree DNA, but they don't have a Geni account? You can link a Family Tree DNA kit to any profile on which you have full permissions to edit (family who allow it and public profiles you manage). The process is the same as the steps outlined above. Simply go to the DNA tab on their profile and click on the link to transfer those DNA test results from Family Tree DNA to Geni.

It is very important to make sure you are logged into the Family Tree DNA account with the correct kit to ensure you are adding the right DNA test results to the Geni profile.
You can also invite your relatives to join your family tree on Geni. Once they have accepted your invitation, your relatives may connect their Family Tree DNA account to their Geni account. Not only will they be able to share their DNA test results in the Geni tree, but they will also be able to collaborate and contribute more information to the family tree on Geni. Read how to invite relatives to your family tree.
If you have more questions about DNA tests, please check out our DNA FAQ page for more information.
We're very excited to add these new DNA technologies to the World Family Tree, to help improve and expand your family history research. Geni's World Family Tree currently connects over 104 million profiles. Access to all DNA features on Geni is free. With DNA test results integrated into the family tree, the world's highest-quality collaborative family tree just got better.
Enjoy!
Share: