Geni Tips: Customize Your Name Preferences
Did you know you can customize how names are displayed on Geni? Since Geni's World Family Tree is shared by everyone, it's important to provide you with ways you can personalize how names are displayed without infringing on the preferences of others. These name preferences apply to the family tree, lists and the rest of Geni.
You can customize your name preferences in your Account Settings.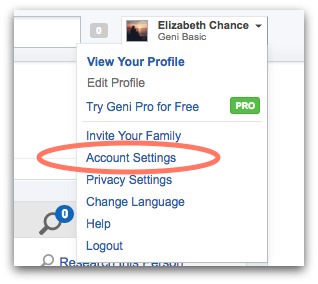 Select Name Preferences to customize how names are displayed on Geni profiles and in your family tree.
Here you can select how you would like to view birth surnames names from the options in the dropdown. You may also choose if you would like your birth surname preference to be displayed just in the tree or everywhere on Geni. An example of each display option is shown to the right when selected.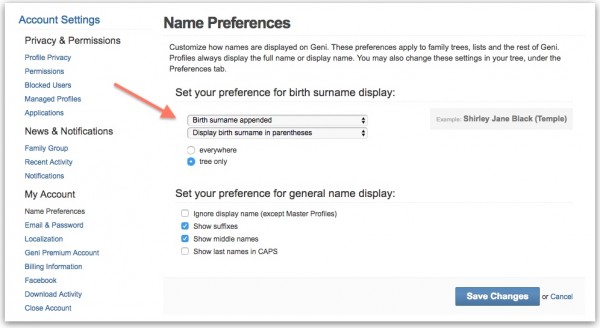 Your display options include:
Do not display surnames
Birth surname instead of last name
Birth surname inserted before the last name
Birth surname appended
From the second dropdown you can choose to view birth surnames as entered, in all CAPS, or in parentheses.
You may also set your preference for general name display on the site. Simply check the boxes next to the display options you prefer.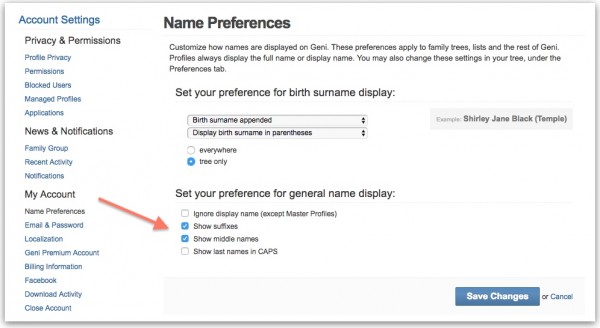 Once you are satisfied with your name preferences, click "Save Changes."
Note your name preferences can also be updated in the Flash version of the family tree. Simply click on the "Preferences" tab at the bottom of the tree page and select "Names."
By customizing your own name preferences, you can display the names in your family tree as you like without imposing the naming style upon others. For example, a common genealogical practice is to view surnames in all CAPS. Instead of entering the surname in all CAPS, you can simply update your name preferences. From the dropdown, choose the option to display birth surnames in all CAPS and/or check the box "Show last names in CAPS." Since the family tree is shared, the option to customize your name preferences is the perfect way to satisfy those who have different display preferences.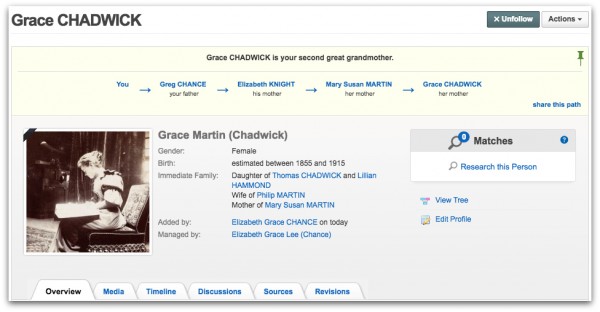 Have you customized your name preferences?
Share: