Geni Turns 10: Celebrate With A Chance to Win A Pro Subscription
When Geni first launched in January 2007, we had one very ambition goal: to create a family tree of the whole world!
We invited users to build their family trees and invite their relatives to join them. What began as several smaller family trees naturally led to merging overlapping families, connecting these separate trees into one big tree. Now, thanks to the collaborative efforts of millions of genealogists and family historians, Geni's World Family Tree has grown to over 112 million profiles!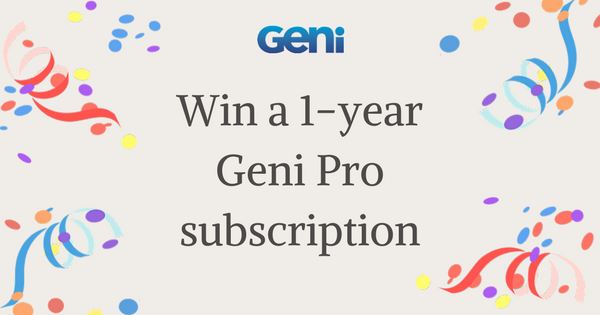 Geni's World Family Tree connects individuals all over the world into a single family tree. Once you have connected, you can discover how you're related to millions of other users as well as celebrities and historical figures that are also connected to the tree. Geni has helped many people connect with distant cousins and discover branches of their family that they had never known before.
Over the years, we have remained committed to building the single, most comprehensive family tree of the entire world. We've introduced many new features to further improve the quality of the World Family Tree, including the introduction of MyHeritage's Record Matches and Smart Matches, which automatically provides matches to historical records and family trees, and most recently, adding DNA integration to the World Family Tree, so you can verify relationships with DNA and discover new cousins with DNA matches.
One of our greatest assets in the World Family Tree are our devoted team of nearly 200 volunteer curators. First introduced in August 2010, curators have been instrumental in ensuring the integrity of the World Family Tree while also helping other users by answering questions. They have spent countless hours merging duplicate profiles and creating Master Profiles to make the World Family Tree cleaner and more accurate than any other online collaborative family tree. By eliminating duplicates, all of the best information for an individual can be found in one place. So when you search for Charlemagne on Geni, you'll find only one master profile versus the hundreds that you may find elsewhere.
In celebration of our 10 year anniversary, we're giving away a free 1-year subscription of Geni Pro to one lucky winner.
With Geni Pro you will have access to advanced tools to help grow your family, including:
Tree Matches – achieve faster tree growth with instant Tree Matches to connect with new relatives
Enhanced search – get full access to Geni's search engine
Priority support – communicate directly with our expert support staff
Unlimited data – upload unlimited photos, videos and documents
How to enter
To enter, send us your best answer to this question:
What first sparked your interest in genealogy?
Post your answer in the comments below, on Facebook or Twitter or email us at community@geni.com. Please note only one entry per person. The winner will be randomly chosen from valid entries.
Enter by January 31, 2017 for your chance to win!
Update: This competition is closed. See the winner here.
Share: