Guess Who Signed Clark Gable's Military Discharge Papers?
Do you have veterans in your family? Military records are an excellent source of genealogical information.
Let's discover what information discharge papers can offer by taking a closer look at the report of separation for Gone With the Wind star Clark Gable, including an interesting piece of trivia.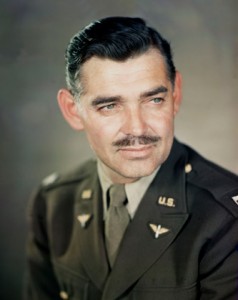 During World War II, Gable felt compelled to join the war effort. However, it wasn't until after the death of his wife, Carole Lombard, in a plane crash did he enlist in the U.S. Army Air Force. Gable flew five combat missions, including one to Germany, as an observer-gunner in B-17 Flying Fortress, earning the Air Medal and the Distinguished Flying Cross for his efforts. In May 1944, Gable was promoted to major and hoped for another combat assignment. However, as time passed, he received no change in his orders and requested to be relieved from active duty. Gable was relieved on June 12, 1944.
Check out what information his report of separation reveals:
(Click to enlarge)
Included in the report is his basic information, such as his first and last name, marital status (single), and date and place of birth. His home address is listed as 4525 Petit Avenue, Encino, California. Some other useful information includes his army serial number, his rank at the time of separation and his branch of service (Air Corps). The record shows he was a U.S. citizen and his highest level of education was a high school graduate.
His civilian occupation is listed as Motion Picture Actor and his military occupation was Motion Picture Photo-Gunner. Further down the document are the terms of his enlistment, the dates and place of entry and separation in the service, and the cause of separation. 
Lastly, here's an interesting piece of trivia – Gable's separation papers were signed by Captain Ronald Reagan, the future President of the United States!
Have you found similar documents for the veterans in your family? What interesting information did you discover?
Share: