Meghan Markle's Roots Connect to Some Surprising Relatives
When news of Prince Harry's engagement to American actress Meghan Markle broke, we shared how the newly engaged couple were related through Geni's World Family Tree. With excitement still in the air, we thought it would be fun to share a few more of Meghan's surprising relatives.
Recently, our parent company, MyHeritage, shared the news that Meghan was related to William Shakespeare and Winston Churchill through her English roots. This was possible thanks to Geni's World Family Tree, which connects over 120 million people to a single family tree!
Here are a few more fun finds:
It's no secret Prince Harry is a huge Star Wars fan. He and his brother, Prince William, even shot a cameo as stormtroopers in the the latest installment, Star Wars: The Last Jedi. Meghan and Prince Harry may be excited to discover that Meghan is also related to Luke Skywalker himself! Mark Hamill is Meghan's 17th cousin once removed!
Meghan has also been an advocate for women's equality since she was 11 years old and continues to do a lot of humanitarian work in a number of philanthropic projects. She's a global ambassador for World Vision Canada, worked as a counsellor for One Young World, an international charity, and is an Advocate for the United Nations Entity for Gender Equality and the Empowerment of Women, also known as UN Woman. Perhaps she finds that passion to fight for equality in her genes. Women's rights activist Susan B. Anthony is her 7th cousin five times removed.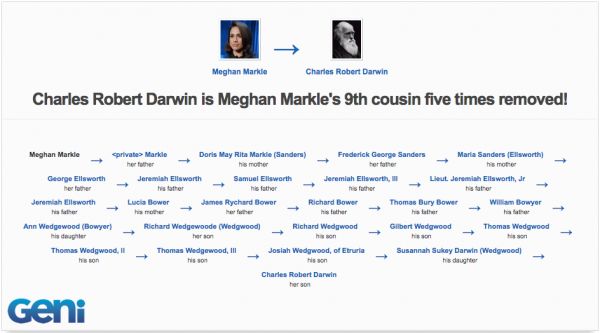 William Shakespeare and Winston Churchill are not the only notable Brits related to Meghan. Charles Darwin, the man behind the theory of evolution, is Meghan's 9th cousin five times removed!
She's also connected to President Abraham Lincoln, who is often regarded as one of the greatest Presidents in American history. He is Meghan's 11th cousin thrice removed.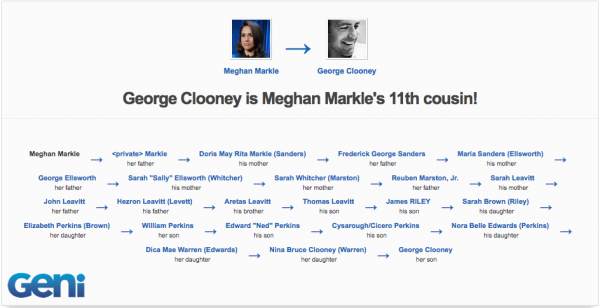 And if we take a quick look at Hollywood, we find that Meghan is also a distant cousin of George Clooney! They are 11th cousins to be exact.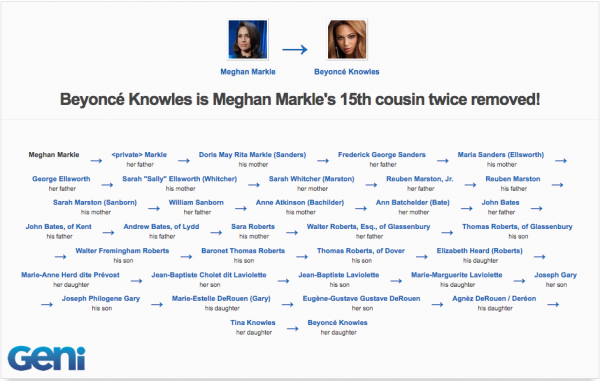 Lastly, we also found that Meghan and Beyoncé are 15th cousins twice removed. The singer is at the top of the charts again with her 10th no.1 single for "Perfect Duet" with Ed Sheeran.
Have you found how you're related to Meghan Markle? Discover how by building your family tree on Geni and connect to over 120 million people in the World Family Tree today!
Share: