MyHeritage LIVE Highlights
From November 2-4, 2018, MyHeritage hosted their first-ever user conference, MyHeritage LIVE, in Oslo, Norway. Over 400 attendees from 28 different countries around the world headed over to the Radisson Blu Scandinavia Hotel to participate in this unique conference. Another 60,000 tuned in to watch some of the many genealogy and DNA track sessions live streamed on the conference website and the MyHeritage Facebook page.
Attendees had multiple presentations and hands-on workshops to choose from, each offering a unique opportunity to learn more about MyHeritage's products and tips for their genealogy research. Geni's General Manager Mike Stangel held a Geni workshop and gave a very informative presentation about Geni and the World Family Tree. If you were unable to attend the conference and missed the live stream, you can catch Geni's presentation and all of the conference sessions for both the genealogy and DNA tracks in the MyHeritage Facebook video library.
Be sure to watch MyHeritage CEO Gilad Japhet's moving keynote address. It's definitely one you don't want to miss! Watch it here:
A special exhibit area was available for attendees to get some personal experience with the products from MyHeritage and participating vendors.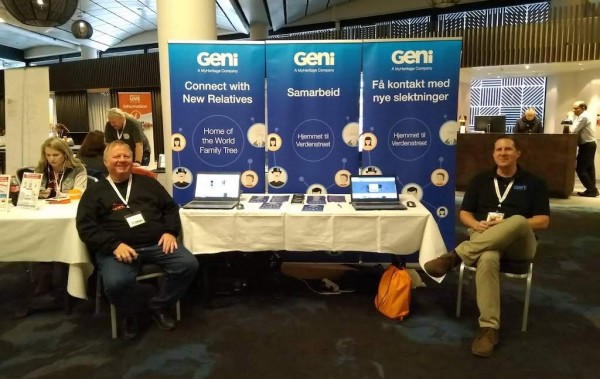 Mike and Geni curator Bjørn Brox at the Geni table
Mike was on hand at the Geni table to chat with attendees about the power of collaborative genealogy on Geni's World Family Tree.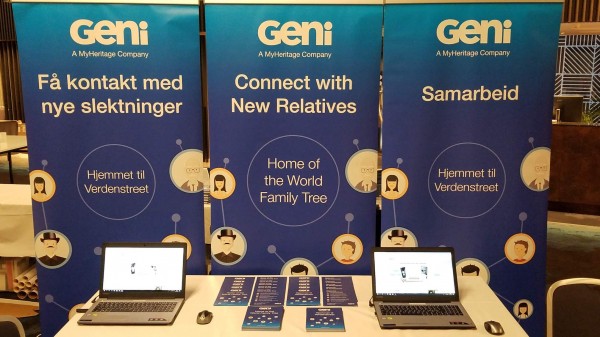 The Geni table at the MyHeritage LIVE exhibit area
Materials at the table were available in both English and Norwegian. Thanks to the hard work of volunteer translators, nearly all of Geni has been translated into Norwegian, so Norwegian users can comfortably use the site in their native language.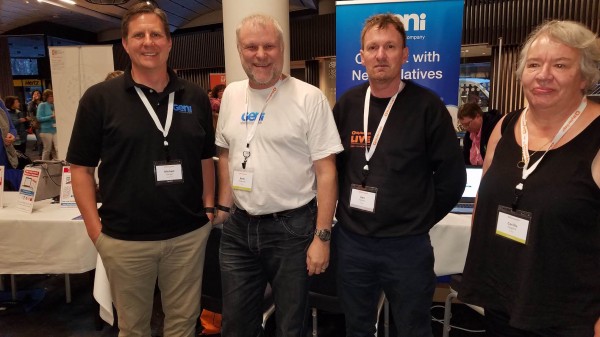 Geni's General Manager Mike Stangel with curators Remi Pederson, Ken Nilson, and Cecilie Nygård
There was an amazing turn out of Geni curators at MyHeritage LIVE. Special thanks to Jeroen van Dijk, Bjørn Brox, Cecilie Nygård, Remi Pedersen, Ard van Bergen, Barbara Rubinstein, Ken Nilsen, and Thomas Fürth for coming and helping to represent Geni!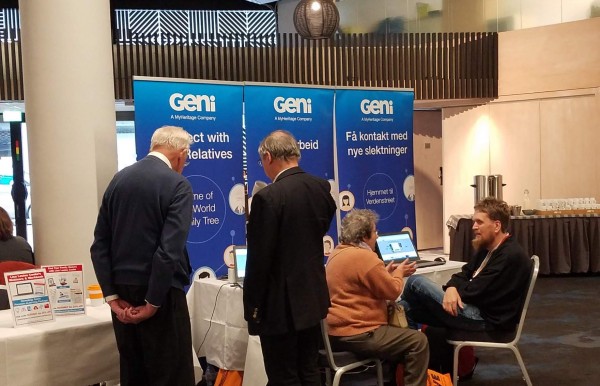 Curators Ard van Bergan and Jeroen van Dijk chatting with conference attendees
The curators lent a hand at the table to help attendees understand more about Geni and the World Family Tree.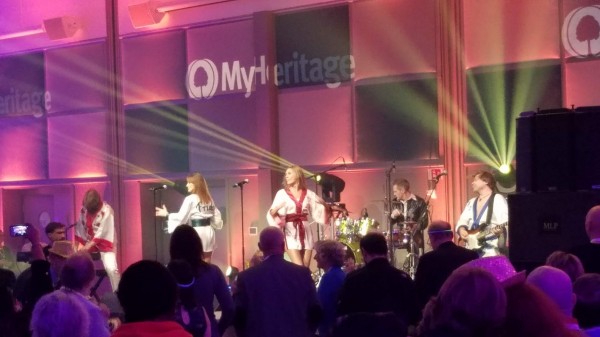 Björn Again entertained guests at the MyHeritage evening party
Saturday evening was capped off with a lively party filled with music, dancing, and food! Guests were entertained with live performances by Norwegian folk dance champions, Bulder og brag, and Björn Again, the world's number one ABBA tribute show.
The conference was a great success and we look forward to hearing more about the possibility of a future conference from MyHeritage!
Watch more MyHeritage LIVE conference highlights here:
Share: