8 Tips to Discover Your Irish Ancestors
Are you searching for your Irish ancestors? With millions of vital historical records destroyed and droves of Irish immigrants settled all over the world, many people researching their Irish heritage may find it to be a frustrating and challenging pursuit. In the U.S. alone, there are over 36 million people with Irish ancestry. That's over eight times the population of Ireland!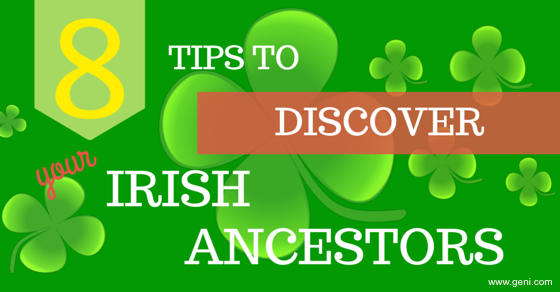 Here are a few tips to help you with your Irish genealogy research:
Talk to your relatives – The best way to begin your research is to talk to your close family members and work your way back. Conduct interviews with your relatives, especially older generations.
Gather family photos and documents – A large number of Irish immigrants have settled throughout the world. If you can gather photos and documents from your family members, you may be able to paint a better picture of your ancestors' lives after immigrating.
Establish a timeline – Use the documents, stories, photos and clues you've uncovered to create a timeline to help you determine when your family immigrated.
Know your ancestors' religious denomination – Protestant and Catholic Churches maintained separate records, therefore knowing what religion your ancestors practiced is important in determining which records are relevant to your research.
Find where in Ireland your ancestors originated – Start with a search of the records from where your ancestors settled. There are many places you can search that will give you clues to your family's Irish origins. Naturalization records, passenger lists, obituaries and death certificates are good places to begin. You can also investigate gravestones at cemeteries for clues. These may even point you to important information about other family members.
Check out the neighbors – Irish immigration typically occurred in groups, so it's possible that your ancestors' neighbors came from the same area in Ireland. Census records and city/town records can offer some good clues.
Search Irish records – Once you know approximately where your ancestors came from, you can try searching historical records from Ireland. Search through MyHeritage's collection of millions of Irish records to see what new discoveries await. Include any new findings on Geni to share them with your entire family.
Collaborate with others – Join some of the many Irish genealogy projects on Geni to meet others tracing their Irish ancestors. The Irish Portal project is an excellent place to ask questions, collaborate on your research, share your knowledge and find more related projects created by others researching their Irish heritage.
Do you have Irish ancestry? Share your tips with us in the comments below!
Share: