Genealogy: Unusual Deaths
Any genealogy researcher will tell you that death certificates and obituaries hold a great deal of valuable information for your family tree. These often contain the name of the deceased, place of residence, place of death, the names of family members and cause of death.
It's always fascinating when you stumble upon an unusual cause of death.
Here's a clipping from The Ocala Evening Star dated April 3, 1908. A woman, Mrs. Anna Ferrer of New York, laughed herself to death while attending a social gathering. As the headline says, at least she died happy.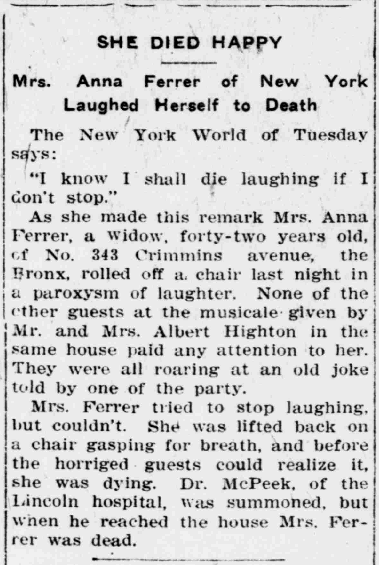 Image: Library of Congress
Have you found an unusual cause of death in your family tree? Share it with us in the comments below!
Share: