New: An Easier Way to Share
We've made some new enhancements on how to share content from Geni. Now when you want to share a page on Geni, whether it's a profile, a project or even a discussion, you can simply click on the new Share icon at the top of every page to quickly copy the URL or share it on social media.

In the heading of a page, you will now see a new Share icon between your notification count and your profile picture. When you click on it, it will reveal your options to share. These include a new Copy Link icon as well as options to share on Twitter or like on Facebook. This new Share icon replaces the Share modules that appeared on profiles, projects and surname pages.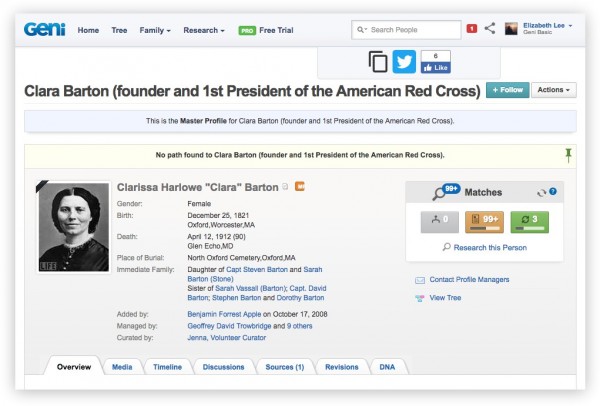 When you click on the new Copy Link icon, the URL of the page will be instantly copied. You can then paste it elsewhere, for example in an email or a message, to send it to others. With just one click, it is now much easier to copy the link to any Geni page. No longer is there a need to manually highlight a URL with your mouse to copy it and thus, eliminating the chances of not copying a URL in its entirety.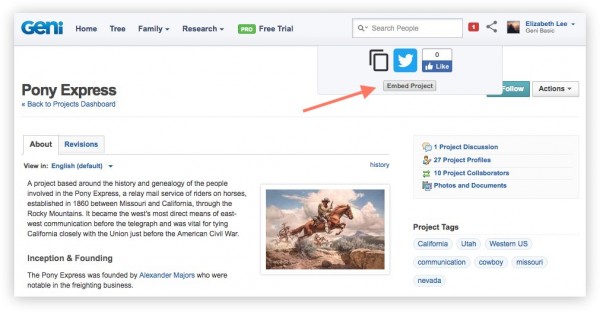 An embed button will also appear for pages that support embedding. Currently, this option is only available for projects.
Facebook Sharing

If you have logged into Geni using Facebook Connect, the Share icon will appear blue. The Share icon will appear gray if you have not used Facebook Connect.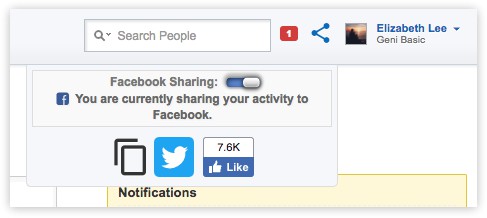 Those who have used Facebook Connect will also see a new slider to activate or disable Facebook Sharing.  This slider replaces the obtrusive Social Sharing box that previously appeared below your name at the top right of the page. You can slide the toggle on to start sharing your public Geni activity on Facebook. Note you will only see this option if you have connected your Facebook account to your Geni account.
As a reminder, you can disconnect your Facebook account at any time. Simply go to your Applications Settings on Facebook and look for the Geni application. Check the box next to the Geni application and click 'Remove.'
Share: