Send Your Family Virtual Photo Gifts
As we start off the new year, we're excited to release a fun new addition to our virtual gifts – your own photos! Now when you send a greeting to a relative, you can add a photo of your own as a virtual gift. Enjoy using your imagination to personalize your birthday, anniversary, or "just because" greetings to those you care about most.
Adding a Virtual Photo Gift
When you receive an upcoming birthday or anniversary notification for a relative, you have the option to send a birthday or anniversary greeting or gift. This can be done in multiple ways: through the email notification, on your newsfeed, your family calendar, or the recipient's profile page.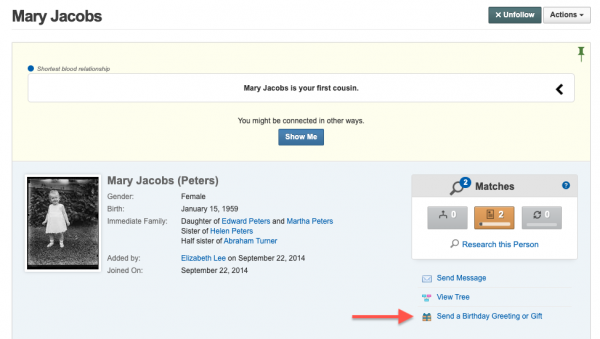 Sending a gift through the recipient's profile page
When sending a greeting, you will see a variety of gifts to choose from. To add your own custom image as a gift, click "Your Custom Image" below "Categories."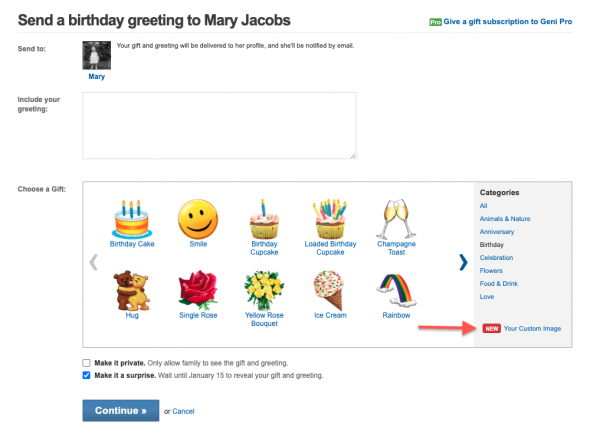 Here you can upload your own images to use as a virtual gift. Click "Add photo" to upload your personalized gift image to Geni.

You can either upload a new photo or choose a photo from your existing albums on Geni. Your virtual gift images will be stored in a photo album named "Custom Virtual Gifts," which you can find under Photos. The images displayed will be small (64x64px), so keep your image simple for best results.
Once you send your virtual gift, the recipient will be able to view your personalized greeting under their Guestbook on their profile page.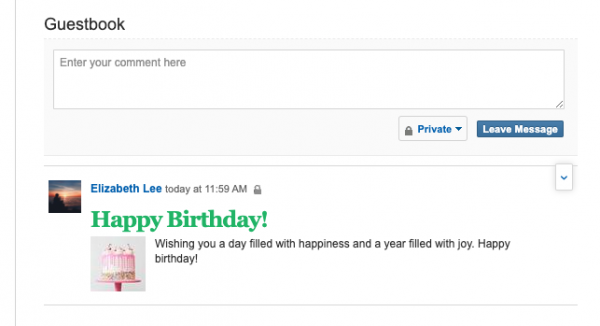 Don't forget, you don't need to be celebrating a birthday or anniversary to send a gift to your family members. You can send a gift and greeting at any time of the year right on your relative's profile page. Simply click the "Actions" button and select "Send a Gift."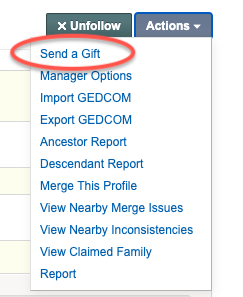 Now gifts are a little more fun with custom virtual photo gifts. Whether it's for a birthday, anniversary, or "just because," a virtual gift is a great way to show someone that you care. We're delighted to kick off the new year with this fun enhancement and we're already hard at work on some more exciting things for Geni, including big enhancements to sources, improvements to search and matching, and a better user experience with mobile-friendly profile pages and speed improvements. Stay tuned!
Give a little joy to your loved ones now with a virtual photo gift! 
Share: