150 Million Profiles Now Connected by Geni's World Family Tree
We're excited to announce that Geni's World Family Tree now connects over 150 million profiles!
This milestone was possible thanks to the collaboration of over 13 million users and over 200 volunteer Curators from all over the world. The World Family Tree has grown faster than ever with over 11 million profiles added in the last year.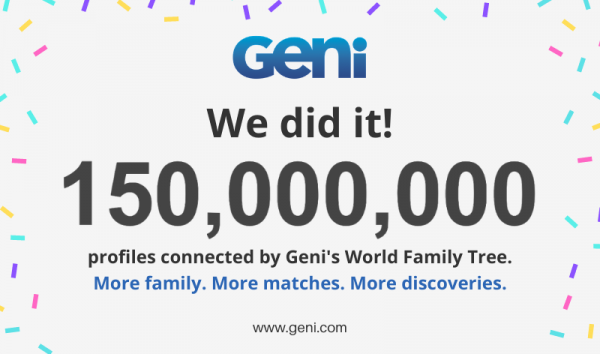 The definitive family tree for the entire world, Geni's World Family Tree allows millions of people to work together to research and preserve their shared ancestry for future generations. By combining research into a single shared family tree, users are able to concentrate on pursuing new leads instead of repeating the same research over and over again. Over time, the quality and accuracy of the tree continues to improve as new information is discovered, errors are corrected, and new connections are found.
With more and more profiles added every day and overlapping branches merged, Geni has become one of the premier go-to reference sites for global genealogy.
Not Yet Connected?
If you're not yet connected to the World Family Tree, don't worry! Keep building your tree and look out for Tree Matches. As you continue to build the tree, we are automatically looking for matching profiles that appear in the World Family Tree and other yet-unconnected trees. When a match is found, you can compare the profiles to confirm if they are the same. If they are, you may then merge the duplicate profiles together to connect the branches, and if that tree is connected to the World Family Tree, you too, will be instantly connected to over 150 million profiles on Geni. Tree Matches will appear in your tree view or you can view a list of all your Tree Matches in your Merge Center.
Your first Tree Match that will connect you to the World Family Tree is free. Subsequent Tree Matches will require a Geni Pro subscription.
If you need more help, the community has put together a project entitled Connecting to the Big Tree with some good advice. It won't be long until you will find your place in the World Family Tree.
Already Connected to the World Family Tree?
Congratulations! You are one of over 150 million people connected to our shared family tree of the world. You can help keep the momentum going by continuing to build the tree and review your Merge Center for Tree Matches. Don't forget to explore the many collaborative resources on Geni to further grow the tree and interact with the Geni community. From surname pages to genealogy projects to public discussions, Geni provides an array of features to facilitate collaboration in the World Family Tree.
You can also do your part to help make sure the World Family Tree is as accurate as possible. Take some time to review the information that you and others have added and be sure your profiles are documented with sources. If any documentation is missing, upload them to the profiles now so others will know that the profile's data is supported by evidence. You may also use the Consistency Checker to spot and fix many common mistakes in the tree.
Geni Tips: How to Add Sources to Profiles
It's important for everyone to work together to make sure the information in the tree is accurate, so that you can be confident in the relationship paths found in the World Family Tree. One of the most popular features of the World Family Tree is the ability to see how you are related to anyone else also connected to the tree, including historical figures and celebrities. You can have some fun by exploring how you're related to Geni's most popular profiles and share it with others!
This is a huge milestone and we couldn't have done it without the passion and dedication of our users and our team of trusted Curators. Thank you to the entire Geni community!
We did it!
Share: