Find Your Relatives at RootsTech with the Geni Pathfinder
Will you be at RootsTech 2020 on February 26-29 in Salt Lake City, Utah? Wonder if any new cousins will also be there? The Geni Pathfinder can now send you a notification to let you know if new relatives are also attending the conference. Simply go to the RootsTech 2020 Pathfinder event page or scan the QR code below to register for notifications.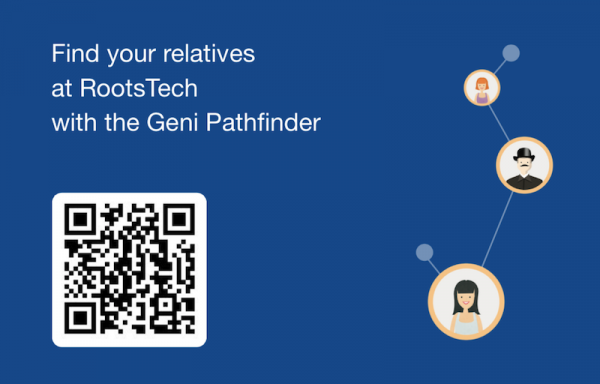 On the pathfinder event page, select how you would like to be notified, either through a Geni inbox message (includes email) or text message. Next click "Notify Me" and we'll do the rest.

You can update your notification settings anytime on the event page, or unregister from the event by turning off all event notifications.
During the conference, you'll receive a notification via the method of your choosing letting you know we've found new relatives. You can also go back to the RootsTech 2020 Pathfinder event page at any time to view a list of all your new relatives at the conference.
You can send a message to a new relative on Geni and make plans to meet during the conference. Take a picture and share it and your path on Geni on Twitter and you can win a free Geni Pro subscription! Be sure to tag @Geni and #RootsTech for a chance to win. At the end of the conference, a winner will be chosen at random from the list of eligible entries.
Not yet connected to Geni's World Family Tree? Don't fret. Keep researching and building your tree until it overlaps with the World Family Tree. Once the duplicates are merged, you will be connected to over 140 million people on Geni!
Remember, you will only receive notifications if you have registered on the RootsTech 2020 Pathfinder event page. If you meet a Geni user who has not registered for this event, you can still find out how you're related on Geni. Simply go to the Pathfinder page and have them scan your QR code or enter your Finder ID on the page.
Don't forget to visit us in the Expo Hall at booth 323 and say hello!
Share: