Geni Tips: Merge This Profile
When trees overlap on Geni, they are merged together to create a single, more complete family tree. Usually this happens when you encounter a Tree Match notifying you of a duplicate profile. But did you know you can still merge duplicate profiles even without a Tree Match?
There are multiple ways to merge duplicates, but here we will cover how to begin a merge from a profile page.
To merge the duplicate profile, first click on the "Actions" button on the profile page and select the option "Merge This Profile."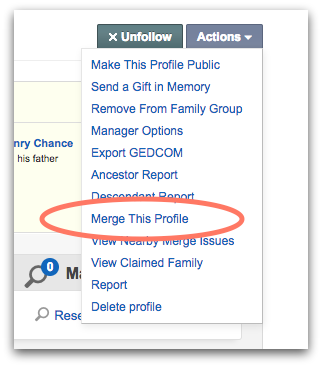 You will be prompted to enter the name of the person you wish to merge into that profile. View the other profile first to ensure that it appears on your list of recently viewed profiles.
Once you have the correct profile selected, click the button "Compare Profiles."

Tip: If the profile you wish to merge does not appear in the list when you enter the name, you can enter the profile ID of the person instead (this is the first string of numbers found after the name in the profile's URL).

From the merge comparison page, you will be able to evaluate the information on both profiles. If you are confidant that the profiles are the same, you may proceed to complete the merge by clicking "Yes, merge these profiles." If you find that the profiles are not the same, you may simply click the button "No, they're different" to reject it.
Note: If you don't have permission to complete the merge, you may see the option to request the merge instead. This will send a notification to the profile manager to evaluate and complete the merge.
The World Family Tree on Geni gets better and better the more we all work together. So when you encounter those duplicate profiles, chip in and help merge them together!
Share: