Look Who's Related: The Office Edition
This week actor John Krasinski launched Some Good News, a delightful new YouTube show to bring good news into everyone's home. The inaugural episode also featured a mini-reunion with his former co-star from The Office, Steve Carell, to celebrate the hit comedy's 15th anniversary. Since its premier in 2005, the critically acclaimed show has gained a devoted following. Today the beloved sitcom remains as popular as ever, if not more so, with new generations of viewers discovering the show for the first time.
In honor of The Office's 15th anniversary, we thought it would be fun to take a look at some of fun connections between the show's cast in Geni's World Family Tree.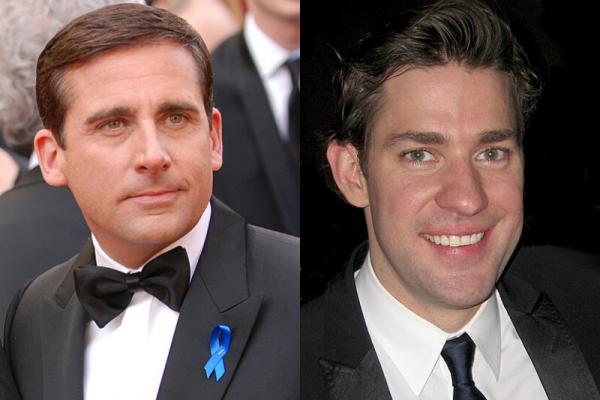 Photo by Sgt. Michael Connors, Wikimedia Commons Public Domain / Wikimedia Commons (CC BY-SA 3.0)
For the show's first seven seasons, Carell starred as Michael Scott, the manager of the Scranton, Pennsylvania branch of the Dunder Mifflin Paper Company. Krasinski starred as salesman Jim Halpert. During their reunion, the two reminisced about some of their favorite memories on the show. Thanks to the World Family Tree, we can see that although both family trees still need to be filled out a bit more, a distant connection through several marriages can be found. Perhaps the community can work together to help expand their direct ancestry and find a closer connection!
On the other hand, Rainn Wilson, who played salesman Dwight Schrute, is a 14th cousin to Angela Kinsey, who played love interest Angela Martin.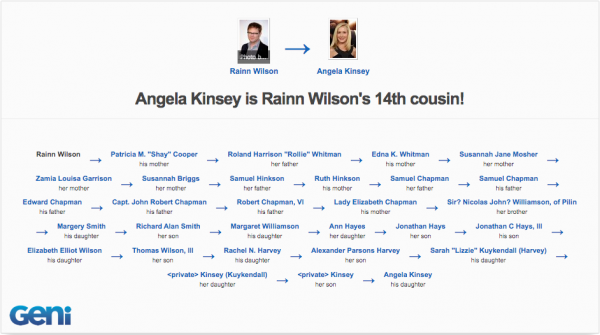 These days Kinsey is co-hosting the Office Ladies podcast with fellow Office co-star and best friend Jenna Fischer, who starred as Pam Beesly. The duo have been taking listeners down memory lane with tons of behind-the-scenes stories as they rewatch each episode of The Office. The two actresses often speak fondly about how they became best friends while starring on the hit television show. We bet they would love to learn of their surprising connection in the family tree. Fisher's 7th great aunt, Barbara Johnston, married Kinsey's third cousin 9 times removed, Col. Daniel W. Shine.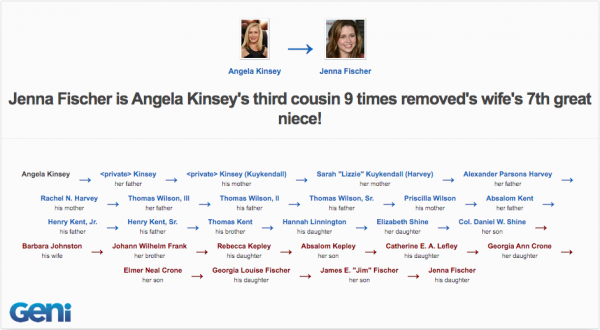 During the show's run, the cast grew to be like family. However, for several of them, they actually were family. Kinsey was once married to the brother of Paul Lieberstein, who not only played HR representative Toby Flenderson, but also served as a writer, executive producer, and later showrunner for seasons 5-8 of the show. Lieberstein's sister, Susanne, is married to Greg Daniels, who adapted the show for American audiences and served as showrunner for the first four seasons and the final season of The Office.
Before the show's iconic couple, Jim and Pam, finally came together, Jim had two previous romantic love interests played by Amy Adams and Rashida Jones. It turns out they are 15th cousins four times removed!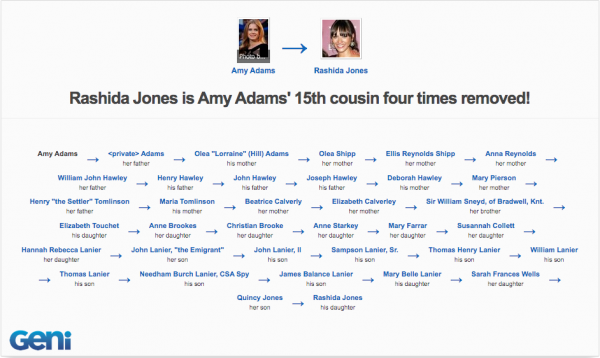 Jones joined the cast in season 3 along with Ed Helms when their characters, Karen Fillippelli and Andy Bernard, transferred to Scranton from the Dunder Mifflin Stamford branch. The two are also 17th cousins!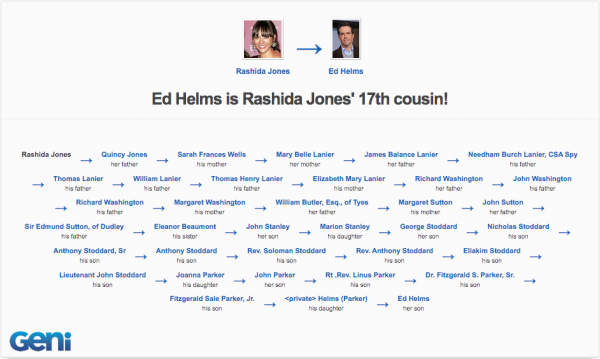 Jones would leave the show at the end of season 3 to join Daniels and Office writer Mike Schur's new comedy, Parks and Recreation. Like many writers on the show, Schur also did double-duty on screen as Dwight's cousin Mose. Fun fact: Parks and Recreation was originally conceived as a spin-off of The Office before the decision was made to make it its own separate entity.
The Office (U.S. Series) Project
You can also have fun at home finding more connections amongst the talented cast by checking out The Office (U.S. Series) genealogy project. Here you can find the profiles for other members of the large ensemble cast. See how you're related to them or play around with our relationship paths feature by using the green pushpin to see how other cast members are related to each other. And if you want to help build out the family trees for those not yet on Geni or help expand the trees for those not yet connected to the World Family Tree, join the project to start collaborating with other Geni users!
Share: