Looking Back at 2015
As the new year approaches, we take a look back at some of the great things we accomplished in 2015. Many of our amazing feats could not have been done without the collaborative efforts of our amazing users and volunteer Curators, who work everyday on making Geni's World Family Tree the largest and most accurate single family tree in the world.
The year got off to an exciting start as we headed to Salt Lake City, Utah for RootsTech, the largest family history conference in North America. The keynote speakers this year were top notch, including MyHeritage's Chief Product Officer Mike Mallin, Former First Lady Laura Bush and best-selling author A.J. Jacobs. It was topped off on the last day with Donny Osmond, who sang a few tunes to the delight of the entire audience.
Geni and MyHeritage teams at Rootstech
This RootsTech also saw the largest crowd ever with over 20,000 genealogists and family historians in attendance. Will RootsTech 2016 be even bigger? We can't wait to find out!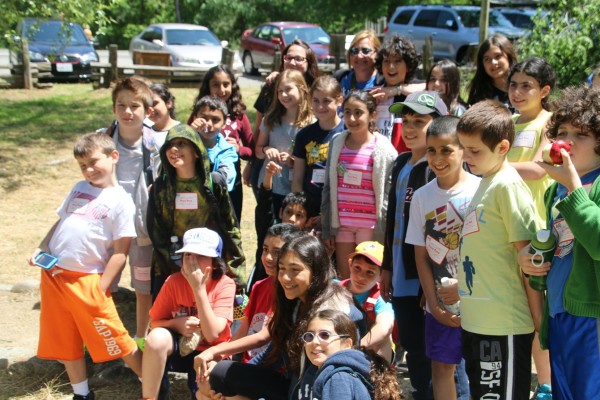 Photo courtesy of Randy Schoenberg
In February, Geni Curator Randy Schoenberg wrote an excellent piece for the Jewish Journal about his quest to connect the families of his son's entire fifth grade class to the World Family Tree on Geni. Randy's own "fifth-grade project" illustrates perfectly how truly connected we are to each other.
The family tree of Steve Jobs
We next announced a long awaited new feature on Geni – adoption! This newest enhancement finally enabled users to show adoptive, foster, and biological parent relationships in the family tree. Not only does this new feature help us make Geni's World Family Tree even better by accurately distinguishing adoptive and biological relationships, but it also gives our users the opportunity to illustrate these very important family relationships in the tree.
150 million profiles on Geni!
In March, we announced a new milestone as we hit 150 million profiles on Geni. This amazing feat could not have been reached without the work and commitment of our incredible community of researchers. With more and more profiles added and merged each day, it wont be long before the World Family Tree reaches 100 million profiles connected!
Sister Sledge performs "We Are Family" at the Global Family Reunion
Another great highlight of 2015 was the Global Family Reunion. Hosted by best-selling author A.J. Jacobs, the Global Family Reunion proved to be an epic, one-of-a-kind event filled with family, games and musical entertainment.
Cousins Elvis Presley and Marilyn Monroe at the Global Family Reunion
Crowds of people were eager to get started on Geni and find their place in the World Family Tree, while others were happy to take pictures with cousins Elvis Presley and Marilyn Monroe. We also had one of the largest gatherings of Geni Curators, who were eager to talk with folks just getting started on their family history research.
David Cameron and Kim Kardashian are related!
This year we also gained a lot of attention for discovering fun and surprising connections between some of the world's most famous celebrities and political figures. In April, British Prime Minister David Cameron confirmed in an interview with Heat that he and Kim Kardashian are 13th cousins. The find was thanks to Geni's World Family Tree. Extra TV later revealed that presidential hopefuls Donald Trump and Hilary Clinton are 19th cousins. And lastly, just in time for the release of the newest installment of the Star Wars saga, Star Wars: The Force Awakens, we found some interesting family connections between the Star Wars cast.
Yevan Chernoff-Christian and Diana Lee / GlendaleNewsPress
We also loved hearing the story of two half-sisters who were reunited through Geni. As reported in the Glendale News Press, half-sisters, Diana Lee and Yevan Chernoff-Christian, were separated for decades until a friend made an unbelievable discovery on Geni. It was while researching Yevan's family history that Melanie Kunisch found that her friend had a half-sibling and helped to reunite the sisters. It truly is a remarkable story!
It's been a great year and we're excited to continue working on bringing you even more valuable tools to further improve your family history experience and make the Geni World Family Tree the definitive, highest-quality collaborative family tree of the world.
We can't wait for you to see what's in store for 2016!
Happy New Year!
Share: